Welcome to Red Lodge Guest Ranch
For the past 25 years the Bradshaw family has shared their cattle and horse ranch and western lifestyle with guests.
The ranch was homesteaded in 1905, and has been in their family for over 80 years.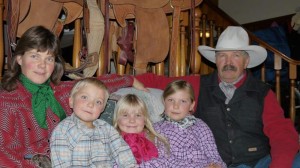 For a quiet getaway, family reunion, company picnic or retreat, the ranch offers a licensed log restaurant complimenting 16 rustic cabins nestled in the wilderness that will accommodate up to 70 people.  A 1200 sq. ft. meeting hall and RV parking add versatility to this beautiful location.  Year round ranch activities include working with cattle, riding quality ranch horses, learning to handle a rope, and harnessing and driving work teams!  Challenge yourself and bring a group to try out our new,  extensive Challenge Ropes Course and 400' twin zip line.  Or, relax and enjoy the quiet solitude, the country fresh air, the magnificent stars and the majestic beauty of the great outdoors.
We are proud members of the Alberta Country Vacation Association, Alberta Outfitters Association, Red Deer Tourism and Innisfail Tourism.
Come Enjoy Our Brunch Every Sunday, 10am-2pm!
Testimonials
'Good Morning Wendy! Hope your brunch is going well today. Thanks again for a great weekend! It was the perfect spot for the Scrapbooking retreat. Everyone enjoyed it thoroughly. We had plenty of room to scrapbook in the meeting room. There were 16 of us and we feel that we could easily fit another 10 ladies to scrapbook with still plenty of room. We will be sure to invite even more scrapbookers next time.
The food, accommodations and staff were fantastic. Everything was delicious and accommodations very clean. All the ladies were asking when we could come back. The prices were reasonable and left room for the ladies to horseback ride and to consider a hay ride for the next retreat. We will be back in the spring! Thanks again for your great hospitality. You and your family and staff are wonderful.
Please find attached some photos we took at the retreat.'

'Just a note to let you know, in the chaos of everyday life, I think often of the weekend at your lodge (Nov.8th'08). It was a wonderful weekend retreat for me, and the contact with horses was wonderful. You run a great place there and I was (for a weekend anyway) taken into paradise and away from my daily worries. Thanks so much.'

Just wanted to say thank you for the many great stays I have had at your ranch over the last 4 years while on my frequent business trips to Alberta. I always look forward to my visits to your ranch as they are the highlight of trips to Alberta. Your hospitality is second to none and I feel as comfortable as being in my own home. The view of the Rockies from the lookout is something I never forget and think of often when back in the flat lands of Southwestern Ontario.

I highly endorse anyone wishing to experience an authentic cattle ranch to pay you a visit and stay for awhile or make it their home base while they explore all the natural wonders Alberta has to offer.