High Ropes Course
Experience of a Lifetime!!
Red Lodge Ropes Course, a division of NexLevel Challenge Ltd. has partnered with Red Lodge Guest Ranch to provide a recreational facility available for individuals and groups who simply want to enjoy the fun of climbing the course. We believe in the value of recreation and our extensive course has a number of ground and high rope elements to provide a fun and exhilarating way to spend the day, amidst the wilderness setting of the Ranch west of Bowden, AB.
Enjoy our high ropes course for a 'just for fun' experience or book a corporate or youth retreat.
Our course can also be used to provide rewarding team building options for groups. The course is a great venue for family and friends to have some fun doing something completely different.
In a safe, controlled environment you will step out of your comfort zone to overcome your fears. You will push personal limits while you achieve goals you could only ever have imagined.
Call 866-840-2840 for more information or check out one of our upcoming events.
Low Ropes & Ground Element Activities
Low element activities provide opportunities for participants to support one another in completing tasks that cannot be competed individually. Skills will focus on decision-making, communication and problem solving. Programs on these low elements increase camaraderie within a group and enhance overall teamwork concepts and skills.
We have a series of permanent Team Challenge Activities as well as a full set of Portable Adventure Activities which can be used indoors and out. We also have low ropes elements usually used for individual challenges.
Nitro Crossing – an interactive team activity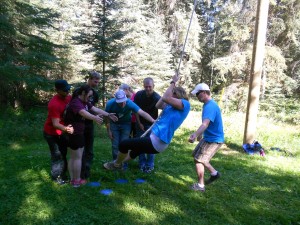 High Ropes Elements
Our High Ropes Course is an exciting vehicle for developing confidence, resilience, and trust. The course promotes flexible use, provides varied levels of challenge and meets the unique needs of all participants.
All equipment and training is provided by our Certified Challenge Course Practitioners and SAFETY is our top priority. There are some height restrictions, be sure to let us know about all youth participants when booking.
Contact us directly for more details.
Our High Ropes Course